THE SALMON RECIPES Stories of our Endangered North Coast Cuisine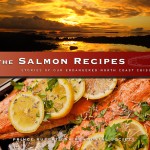 The Tyee      A Salmon Lover's Delight       Andrew Nikiforuk
Compiled by Gitgat elders, Haida cooks, Prince Rupert stevedores, and mothers that live on the endangered Pacific north coast of British Columbia, this book offers wild stories for the table and rich recipes for the family.
The book, of course, exists as a defiant response to a preposterous pipeline proposal that would accelerate ocean acidification and climate change.
When Enbridge lobbyists, Chinese oil companies and Alberta ideologues threaten your homes and neighbourhoods with careless industrialization, why, the Prince Rupert Environmental Society decided they had to do something.         Read full review.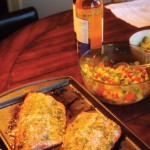 Watershed Sentinel        Delores Broten
The Salmon Recipes is not so much a cookbook, although it is an excellent one, as a luscious visual and mental experience. Combining stunningly beautiful photography, a few Susan Musgrave poems, First Nations' reminisces of harvesting and other experiences of the sea, and wonderfully practical recipes, this is not just Cookbook of the Season, but deserves a BC book award.   Read full review.
Susan Musgrave
Your book is SO beautiful. I've been looking at a lot of cookbooks lately and this is one of the most enticing. There is just — some kind of magic about it. And it is so very hard to say what makes a cookbook work (I've found). There are so many things going on in yours, and yet it doesn't feel cluttered or "too much".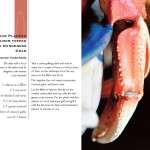 Commonsense Canadian  Ray Grigg 
The Salmon Recipes is not so much an argument in opposition to oil tankers as a statement of defiance, a vivid illustration of the incalculable loss that would result from an inevitable oil spill. If the book were merely about cooking, it would be sensational. But it's also a testimonial from the heart, an assertion that the very soul of the North Coast is an ancient and inseparable bond so intense it unites the people and their environment into one indivisible whole.   Read more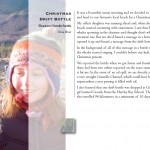 Dogwood Intiatives Blog  Lyndsey Easton
On the last day of public hearings into Enbridge's oil tanker and pipeline proposal in Prince Rupert, Metlakatla dancers started the meeting by drumming, dancing and singing. Leslie Rowlands recalls that powerful moment.
A young man stopped his drumming and then challenged the room, "Is that it?"
The answer was a defiant no.
"We couldn't just let all those stories disappear, but we were feeling empty and exhausted at that point. We needed Gerald's spark to ignite us again," Rowlands says.
Charged by a collective passion and unwillingness to have their home compromised by an oil spill, about 80 local residents began meeting at the Fisherman's Hall, brainstorming the perfect way to continue their stories. Soon a cookbook, The Salmon Recipes, gave life to a heartfelt community experience.  Read more.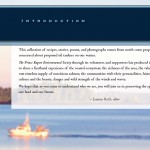 Commonground Magazine  The Prince Rupert Environmental Society has woven a tapestry …  Read more.