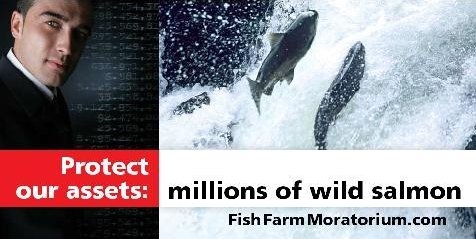 Your donations allowed us to put up this billboard on the Pat Bay highway to show Southern BC that even though the Skeena River wild Salmon are healthy and contribute 110 million dollars to the economy, BC MLAs were deciding their fate.
This Billboard went up on the Pat Bay Highway in time for the Easter weekend 2006 and stayed up a year!
Thankfully the Norwegian multinational, Pan Fish, has recondidered plans to put three salmon farms right into the Skeena River estuary, but the licenses may be used by a new owner.
We hope the MLA's who passed our billboard on the way to Victoria will maintain the moratorium.
The majority of First Nations people and the majority of Prince Rupertites are dead set against these fishfarms.
The BC government has released new southcoast fishfarm licenses. The fishfarm industry will demand they get their Skeena estuary licenses too. We can't keep the northcoast fishfarm free unless there is a moratorium.
Special thanks to the Steelhead Society of British Columbia for a donation towards this project and for some volunteer help down south.