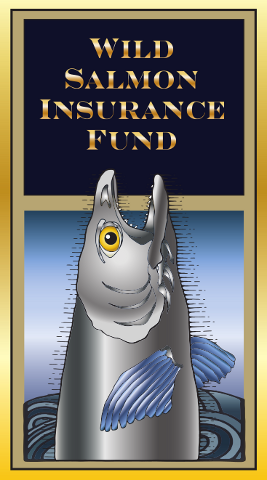 Today's wild salmon face a sea of uncertainty. From farmers' chemical use, to fish farms in migration routes, to an oil industry in conflict with the health of all of us — salmon lovers, sport and commercial fishers, First Nations and environmentalists must insure ourselves and our wild lands against an alarming amount of environmental risk.
The salmon and the people together share our coastal necklace of islands, fast rivers and fertile rainforests. And as goes the wild salmon, so goes the people. Because what kills off the wild salmon unravels the entire web of life holding us together, killing off our spirit and souls in the process.

Health insurance products came into existence to provide security for our families from risks. And while our local group rallied, and drew in support to protect our salmon from the sudden risk of fish farms in the Skeena estuary, we now need a long-term plan to ensure that all life is respected and honoured. We need a new kind of insurance that offers on-going protection for young salmon in their upriver spawning beds and coastal nurseries.
British Columbia's small coastal populations and native villages can't act alone in response to the economic pressures of big industry, And we can't afford to wait around anymore. So we're now taking the next logical step— by establishing the Wild Salmon Insurance Fund.
Wild salmon are not so much our prey, as our partner. As an insurance policy for healthy and abundant runs, The Wild Salmon Insurance Fund offers you an opportunity to help manage the risks no other private or governmental institutions are accepting responsibility for.
Our volunteers have a culture of caring for salmon and an intimate connection to them. It's not only our job, but our ethical and moral responsibility to partner with like-minded souls.
And we think you are a big part in making this partnership work.
Private and powerful industrial interests have staked out the great lands of the salmon for their own, and our present government leaders are falling over themselves to hand it to them. We've watched open-mouthed as time and again, the government caves-in to economic pressure from the oil industry and salmon farming conglomerates.
Even as the pressures mount on our wild salmon, the institutions to shield them are being broken down. The habitat provisions of The Fisheries Act are being gutted. The Environmental Review Process to evaluate hazardous industrial projects are being curtailed. Hundreds of people at Environment Canada and the Department of Fisheries & Oceans are being laid off.
The goal of The Wild Salmon Insurance Fund is simple: We will— as human beings living sustainably in our home — protect the health of our families and our salmon partners in this ecosystem.
And with your generous contribution, salmon lovers from all walks of life can pool our funds together to insure British Columbia against the alarming risks we're facing— to guarantee that the magnificent, millions-strong wild salmon runs in Canada won't just die off quietly.
The needs of our natural world trump the needs of the economic system.
Subscribe to the Wild Salmon Insurance Fund.
Sign-up Today— With your generous donation, we'll ensure your connection to the salmon river runs with:
On-going Updates (if you ask for them):

news on wild salmon issues
updates on our political actions
Skeena River advocacy programs
habitat restoration project updates
invitations to our public political actions, and

A Wild Salmon Insurance Fund Fishing Diary for the North and Central Coast, prepared by a leading Skeena River fishing guide, including a calendar of prime fishing times and detailed monthly information.
A designer Skeena fishnet bag for every donation over $50.
A first-edition copy of our new salmon recipe book, now in production. For your donation over $100, you can experience unique insights into our local salmon cuisine, and the first-hand stories of life on the wild and dangerous seas of B.C's North Coast and Hecate Strait.
A limited-edition portfolio of Wild Salmon fine art prints for all donations over $500.
That good feeling inside, knowing that you're making a critical contribution to the protection of our iconic wild salmon species.
Wild salmon populations have benefited from careful management— and conservation programs by First Nations, commercial fishers and recreational fishers are now well-established across the province.
To build on this success, we advocate selective fishing policies informed by science, and based on trust and respect for local people, First Nations and the conservation of endangered salmon runs.
We hope to continue supporting projects that help salmon runs achieve major comebacks, and financial support to local workgroups for salmon enhancement programs. And with your contribution, we will be able to partner with more First Nations bands to protect, restore and heal critical salmon habitat.
But despite a legacy of institutions to protect wild salmon, and the back-breaking salmonid enhancement work on the ground, we still need to stand up to the big, vested economic interests that are threatening to destroy all these significant accomplishments.
To take us to the next step, your generous contribution to The Wild Salmon Insurance Fund will provide advocacy and political representation for wild salmon to fund:
Stopping the planned Enbridge pipeline in our prime salmon spawning lands. An Exxon Valdez-sized spill is an unthinkable risk from this unnecessary and thoughtlessly-designed project from a thoughtless company with a long history of tragic oil spills.
Maintaining the oil tanker moratorium.
Continuing our efforts to keep fish farms out of wild salmon migration routes.
Coordinating with First Nations Fisheries managers to enhance weak North Coast salmon runs.
And we'll do all we can to guarantee that your private investment will continue to fund the work that the government has abandoned.
Our Advocacy & Outreach Programs Include:
Bearing witness at public meetings.
Putting political pressure on government officials both in-office and in-the-field.
Continuing our fight against fish farms and their introduction of new diseases into wild salmon stocks.
Supporting sympathetic scientists inside the Department of Fisheries & Oceans and other provincial and government ministries who facilitate wild salmon protection.
Coordinating with salmonid habitat restoration groups and other wildlife protection organizations.
Facilitating other sources of private and public funds to pay for scientific inquiry and research in the interests of preserving wild salmon.