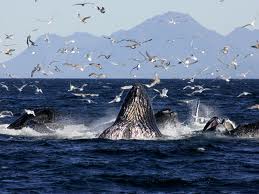 There is a glut of oil tankers in the world right now (most serious excess capacity in 29 years) and it will continue to get worse as already contracted crude carriers come onto the market.
In 2012 Lloyds noted: "Even major well capitalized ship operators have reported significant losses as poor rates and excess capacity drive earnings into the red and in some cases little more than covering fuel costs."
Imagine the pressure on tanker operators to cut corners. Hull structural  failure is the main cause of oil spills. It is difficult to find and correct corrosion which is weakening ship hulls, especially double hulls.  Whether ships leave from Kitimat, Prince Rupert or Lax Kw'alaams they have to deal with the huge seas in Dixon Entrance, which can capsize or break ships apart.
Prince Rupert Port Authority is secretly negotiating for 100 Afromax tankers per year and Enbridge is proposing to contract 200 or more supertankers each year, fill them with toxic bitumen, and wave them off. If cash strapped tanker owners have an accident in Douglas Channel,  in the Skeena Estuary, or where the pilots board out where these humpbacks feed, or even further out on their way around Haida Gwaii (Queen Charlottes) it could be a catastrophe.
Below are some other excerpts referencing excess capacity of oil tankers or VLCCs
http://www.nscsa.com/printable/article-details.php?id=185&from=&cat=11
NSCSA Annual Consolidated Financial Results for the year ended 31st December 2011
4. Operating profit totalled SAR 229.5 million compared to SAR 453.6 million, a decrease of 49.4%.
5. The CEO of NSCSA, Mr Saleh Nasser Al-Jasser, traced the decrease of net profit during 2011 compared to 2010 to the following reasons:
- Decrease in average Time Charter Equivalent (TCE) rates in Very Large Crude Carrier (VLCC) spot market due to excess capacity of tonnage resulted from the entrance of new VLCCs to the market.
http://www.lloydslist.com/ll/sector/markets/lloyds-shipping-economist/lse-pdf/article378144.ece/BINARY/LSE-01_AUGUST_2011.pdf
Lloyds Shipping Economist magazine August 2011
According to Chief Executive Officer Peter Evensen, an oversupply of vessels relative to demand is dragging down tanker rates, with geopolitical factors and various oil field shutdowns adding to the impact on demand.