The following evidence suggests that an oil terminal has been in the planning since 2008. It  has been approved, funded, and construction is nearing completion – shipments could start as early as 2015 or 2016.
"A new northern energy corridor from Prince Rupert" – Gordon Campbell 2008
Excerpt from 2008 Gordon Campbell's Throne Speech:
"A new northern energy corridor from Prince Rupert to Prince George will also be pursued. That alone holds the potential for billions of dollars in new investment that will create new high-paying jobs for the North.
The Port of Prince Rupert is revitalizing northern and rural economies and creating a powerful platform for future development. The next phase of that port development will be pursued, in co-operation with First Nations and the federal government.
Working with the federal government, a new integrated Pacific Ports Strategy will also be developed, to make the most of Canada's Pacific Gateway."
Plans include: rail car unloading, a tank farm capable of holding  hundreds of millions of liters of oil, a marine berth for supertankers and more anchorages
A $90 million expansion program is underway. It is part of "Prince Rupert Port Gateway 2020 vision for 2010 – 2020" which includes:
a) "Bulk Terminal 3 (Liquid Bulk) will be a tank farm measuring approximately 100 acres, with average tank size of 50,000 LT…intended to handle liquid bulk goods such as; oil trans-shipment,….." These are 50 million liter average size, capable of serving Aframax and other tankers which hold upwards of 100 million liters.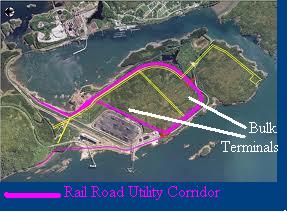 b)"The Road Rail Utility Corridor 1 Project at Ridley Island consists of three inbound and two outbound tracks for coal, potash and other bulk terminal developments, two additional tracks that form a loop around the main part of Ridley Island and one new track that extends off the rail loop towards Ridley Terminals."
The oil by rail infrastructure actually being built in Rupert could handle Keystone quantities. The rail loop is huge; three times longer than the one in Washington state (see below)  which hopes to ship 360,000 barrels per day.
Ridley Island Coal Terminal is actively working to start shipping oil
RTI, the federal crown corporation which owns and operates the Ridley Island coal terminal,  has been working since 2009 on initiatives to ship oil (liquid bulk):
"Research and consultation on product diversification initiatives continue to be of great interest to RTI, as the Terminal is vested in seeking an active liquid bulk business and or other product ventures." (pg 9 2012 annual report)
The expense category, which included this, was $2.1, 2.6, 6.1, 4.7 million in 2009-2012, so some part of 15 million in four years (2009-2012)
Ask yourself why RTI's annual report says "and or other product ventures" – if they have been working on it for several years they know if it is "and" or "or".
The federal government has given Enbridge, the Chinese oil company CNOOC (NEXEN), and others the opportunity to buy a terminal facility in Rupert
Now, as rail line infrastructure needed for an oil terminal facility is nearing completion, RTI is being offered for sale:
"Prince Rupert, December 13, 2012
Harper Government Announces Intention to Sell Ridley Terminals Inc.
The Government of Canada today announced that it intends to sell Ridley Terminals Inc.
Ridley Terminals Inc. is a Crown corporation that operates a bulk-handling terminal for the efficient and reliable movement of commodities, on land leased from the Prince Rupert Port Authority in British Columbia." Canada Development Investment Corporation
Enbridge or another Tarsand oil shipper may buy RTI
RTI is in the portion of the port which is being developed with a rail offload facility mirroring the Bruderheim oil loading facility in the Tarsands. The construction of the facilities is well underway. And the Rupert terminal Canadian Environmental Assessment (CEA) approvals are almost finalized for the marine berth under the combined rail road utility corridor and Canpotex CEA which covers petroleum coke and possibly wouldn't even require a new assessment for a switch to petroleum liquid especially as bulk liquids are mentioned in that CEA. Nexen, owned by the Chinese National Offshore Oil Company, is looking into an oil by rail facility somewhere on Ridley and Enbridge is rumoured to be interested in buying RTI.  Enquiries aren't public.
Phase I, the Rail Road Utility Corridor in Rupert, shown above, is expected to be complete in December 2014 and includes three inbound and two outbound rail lines. At full build out, the port authority expects 14 inbound tracks and 12 outbound tracks each capable of carrying 450 rail cars.-info from  NorthernView
In March 2014 CAPP Canadian Association of Petroleum Producers explained about oil by rail in the tar sands: "Most of the large scale facilities that can load a unit train will be moving heavy oil, dilBit, rail bit or raw (undiluted) bitumen."  The port is building a facility to handle unit trains.
The port in Washington built a rail road utility corridor for "potash" just like Rupert's and suddenly last year signed a contract for oil by rail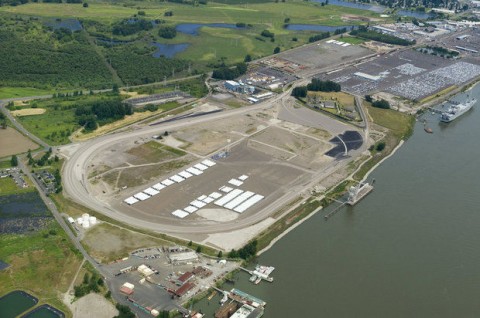 This facility was built by the port near the mouth of the Columbia River, local people were told (just as they were in Rupert) that it was for potash. But just when it was completed in July 2013 they announced an oil by rail terminal which locals are now fighting – let's hope they keep oil tankers out of that important salmon river estuary- and let's hope we do too!
July 23, 2013 Scott Learn, The Oregonian Port of Vancouver approves big crude oil terminal amid safety concerns
Port of Vancouver commissioners unanimously approved a lease Tuesday for the Northwest's largest crude oil terminal, saying safety protocols would be hashed out before it begins operating.
The vote allows Tesoro and Savage Services to move forward with plans to build a terminal capable of shipping up to 360,000 barrels a day, nearly half the capacity of the controversial Keystone XL pipeline through the Midwest.
The oil will come by train — up to four a day — from North Dakota and Canada's Bakken oil field.
PRPA risk assessment lists 100 Aframax oil tankers in 2015
The Prince Rupert Port Authority recently had a marine risk analysis done (see pg 85) which considered 100 Aframax oil tankers a year in 2015 as well as 100 LNG carriers. It is interesting that they are doing this assessment.  Note that the accident return periods for bulk carriers and container ships suggest much lower incident rates than we actually are experiencing in Rupert. Part of the issue may be that they did not consider incidents related to anchorages and they credit pilots with a huge potential incident reduction whereas both the last container incident and the Amakusa Island had pilots aboard.
PR Port tank farms & tankers possible in the "near term"
In a meeting with Port operations organized for fishermen, a slide was presented for other reasons which showed a Bulk Terminal beside the rail line as a "near term project"-this was not one of the LNG projects or coal area and looked like the planned  "Bulk Terminal 3 (Liquid Bulk) tank farm.
Federal Approval and Funding for Oil Terminal
The approval process for the federal funds to help build the terminal infrastructure included the acknowledgement they would support liquid export capacity.
"Submitted by the Prince Rupert Port Authority August 12, 2011 EXECUTIVE SUMMARY"
"Implementation of a ten year development plan for the port terminals and facilities could see the tripling of the Port of Prince Rupert and the creation of nearly 70 million tonnes of new trade capacity."
"providing capacity for liquids export" – PRE-BUDGET CONSULTATION BRIEF TO THE GOVERNMENT OF CANADA'S STANDING COMMITTEE ON FINANCE Note that this expansion was framed to the public for coal and potash but clearly includes liquids.
Oil and Gas Industry Insider warns that CN is preparing to ship oil to Rupert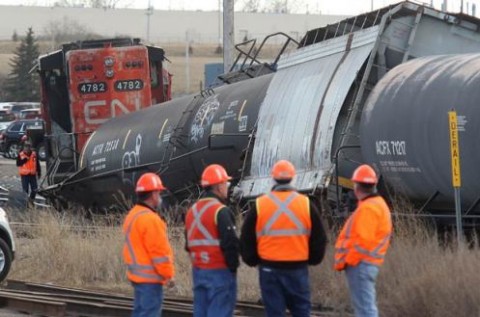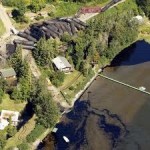 An insider who has asked to remain anonymous warned us in August 2014 that:
"All the surveying has been completed on the Fraser/Thompson side of things, all the access points for a spill response plan have been assessed and now they're in the process of putting all these things into a document for CN."
Petroleum Pipeline and Terminal Environmental Assessment Hurdles being Overcome
The CEA for the Rail Road Utility Corridor – key oil by rail terminal infrastructure for unit trains – was hidden in the Canpotex potash CEA.  Look carefully in the second part of the project description – "The Prince Rupert Port Authority Road, Rail and Utilities Corridor will include the following components: A rail loop (approximately 7,818 metres) consisting of a railbed for up to 14 inbound and 11 outbound tracks."
Oil by rail is just a first step while the pipelines are being built.  The common pipeline corridor is already being planned.  First Nations negotiations and CEAs are currently underway  for the Westcoast Connector and Prince Rupert Gas Transmission Project.  Both these petroleum product pipelines will end in Prince Rupert and are being discussed as LNG pipelines .
The Prince Rupert Gas Transmission Project is being built by Transcanada, who are major oil shippers and have switched gas pipelines to oil.  Although many people have been told at industry openhouses that LNG pipelines can't be switched, their arguments don't withstand scrutiny and they have admitted it themselves.
Rick Gateman, president of TransCanada's Coastal GasLink addresses District of Kitimat Council, Oct. 15, 2012:
"Councillor Phil Germuth questioned Gateman about the differences between a natural gas pipeline and a petroleum pipeline. Gateman replied that the pipelines are pretty much the same with the exception that a natural gas pipeline uses compressor stations while a petroleum pipeline uses pumping stations. Gateman did note that the original part of the controversial Keystone XL pipeline that would carry bitumen through Alberta and US mountain states to Texas was a natural gas pipeline converted to carry the heavier hydrocarbons."
A single pipeline corridor ending in Rupert
As mentioned above the CEAs for two large pipelines ending in Rupert are underway and moving forward. The widespread belief of industry insiders, as reported by numerous comments to locals in the Skeena Valley and Prince Rupert,  by industry mid-level employees and contractors, is that there will be a single petroleum product  pipeline corridor.  The northern route has the pipelines coming to the coast through Nisga'a territory then through Portland Canal along a marine route ending in Rupert.  The single corridor idea is touted by pro oil political leaders in this June 2014 Edmonton Journal article, as a way to get oil pipelines through despite opposition.
Environmental and Risk Assessments which covered infrastructure needed for a tar by rail terminal in Rupert are proceeding quietly as parts of other projects
Environmental and safety regulations are being met which may allow Enbridge to switch the northern gateway terminal to Rupert. The CEA for the terminal in Rupert would have been completed long ago except for some issues raised by Prince Rupert Environmental Society and T Buck Suzuki Environmental Foundation regarding health risks to the local food supply from resuspension of dioxins and furans in the proposed dredge. This may be a route to stop the oil terminal and has drawn local FN concerns, but the federal government is changing the dioxin and furan regulations for dredge sediment as we speak- the sediment is above the Interim Sediment Quality Guideline of the Canadian Ministers of the Environment (currently until the federal government adopts a less protective regulation).
Prince Rupert is listed as an alternative site to Kitimat in the Enbridge application
Rupert is listed as an alternative in the application which has been given conditional approval by the NEB and Canadian government. Enbridge Northern Gateway Application  May 2010 Section 4.2 Marine Terminal Alternatives states that Northern Gateway initially considered many alternative locations for the marine terminal … Prince Rupert and Kitimat were further evaluated.
The Alternatives Map shows Kitimat and Rupert terminal sites and the application says, re: Rupert, "Costs to mitigate the potential environmental effects were anticipated to be high." Rupert is never eliminated and Kitimat is referred to as the "preferred alternative".
Many media reports suggest Rupert may replace Kitimat
"The second bombshell was lobbed by an Enbridge spokesman who told reporters during an Asian tour with Prime Minister Stephen Harper that Enbridge may "reconsider" Prince Rupert, rather than Kitimat, as the terminus for its $6.6 billion Northern Gateway pipeline." Frank Obrien Western Investor March 2012(reported in several business reports but not independently confirmed)
Gwyn Morgan, former Encana CEO, likely knows and possibly helped formulate the industry/government plan to get tarsands oil out by BC northcoast tankers. I doubt his description of Rupert as the terminal is a simple mistake. Northern Gateway July 2014 article  in The Record (Kitchener):
"At tidewater in Prince Rupert, B.C., the crude would be transferred into tankers for shipment to Asian markets."
 LNG facilities and oil terminals tie in to offshore oil and gas
A look at the Early Planning for Alberta Oil Terminal in BC
An analysis of "Midstream Opportunities and Challenges for Canada's WestCoast Ports." 2005 by Darryl Anderson (who has held board and executive positions with Canadian port authorities) noted that combining a coastal terminal for Alberta oil with the infrastructure to support offshore oil and gas at Prince Rupert or Kitimat would be the most economical. Much of the "desirable" infrastructure he described for this is included in the Rupert Port Gateway 2020 project.
Anderson also drew attention to the Scientific Review Panel 2002 which concluded that offshore oil and gas could be tied into underwater pipelines. The two current LNG projects planned for Prince Rupert Port include plans for underwater pipelines.
Anderson does note that Kitimat has an advantage in lower pipeline costs from Alberta and might be able to leverage its competitive advantage for a bulk liquid crude terminal for Alberta's oil sands exports to become the location for a future B.C. offshore oil and gas port. Yet he also notes in his report that it is problematic to be clear in public about oil terminal plans.